Introducing,
the Saab 900

The Saab 900 Carlsson was a special edition of the Classic 900 offered only in Great Britain. Less than 200 of these dealer specials were created for model years 1990, 91 and 92. The Carlsson was produced near the end of the Classic 900's long, illustrious run.

Turbo! subscriber Andrew Wright owned one of these powerful cars. I've created a separate page for Andrew's Carly.

The pics below, when clicked upon will show you a larger version of the picture. The text is from various information supplied by Andrew.

A hearty Sk&aringl! to Andrew for providing the pictures and most of the text that accompanies this page.

--Larry


---
The Carlsson Thoroughbreds

The exciting new Carlsson Series from Saab offers you true 'thoroughhreds' in every sense, whether you choose the 900, 9000 or CD variants. These three very special cars, like their namesake Erik Carlsson, twice winner of the Monte Carlo Rally, offer outstanding qualities of performance, endurance, roadholding and style. A complement to their sporting heritage.
The sporting yet elegant appearance of the Carlsson Series truly reveals their character in which performance and precise handling are combined with unique standards of comfort and refinement. The unique Carlsson range of cars are available in a selective range of colours. Their new style aero wheels with low profile tyres plus colour keyed front and rear spoilers further enhance this striking image. These all powerful turbocharged models, now have a new generation of turbocharger, which delivers peak torque at impressively low revs per minute, virtually eliminating Turbo lag.
The Saab Carlsson models are technically advanced working in harmony with the environment. Already able to run on unleaded petrol, thereby reducing the amount of lead going into the air which in turn leads to a cleaner environment. Furthermore, the Carlsson Series can be fitted with an optional 3-way catalytic converter which effectively converts the harmful chemicals released in exhaust emissions to 'non-toxic' compounds, normallv found in the air we breathe. Natural, organic compounds have been used for the brake-pads, ensuring that these are asbestos free. Saab have given you the means to reduce the levels of pollution entering the air. The environmental decision is now yours.
---

Saab 900 Carlsson



The Saab 900 Carlsson is a true driver's car. The 185bhp 16-valve turbo engine which delivers superb power for fast, safe overtaking even in high gear yet offers remarkably efficient and economical fuel consumption. The Saab 900 Carlsson as with every Saab is designed from the inside. Starting at the driver's seat fitted in plush velour, you will notice the controls and instruments have been carefully positioned in the driver's field of vision for fast reading thus enabling the driver to react quickly, confidently and effectively. The best of engineering and design combined with a facia which is both stylish and informative - a perfect blend of form and function. The Saab 900 Carlsson boasts an impressive line-up of standard equipment which includes a fully tuned chassis, anti-lock brake system (ABS + 3), twin exhausts, sports steering wheel, leather gear knob and gaiter.

Available in three distinctive colours, Black, Talladega Red and White.
---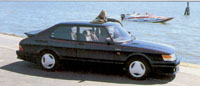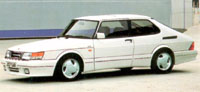 ---
Technical Data for the Saab 900 Carlsson

ENGINE

Electronic fuel injection Turbo-charger with water- cooled bearing housing and integrated waste gate (boost pressure control valve). Intercooler. Saab APC system for continuous boost pressure control. Four valves per cylinder. Dome-shaped combustion chambers with centrally-located spark plugs. Double chain-driven overhead camshafts. Hydraulic. self- adjusting and service-free cam followers. Engine oil cooler.
DIN rating 185 bhp (136kW) at 5500 rpm.

DIN peak torque 201 lb ft or 27.8 kgm (273 Nm) at 2800 rpm.

Max boost pressure 0.85 bar.

Compression ratio 9.0:1.
Recommended octane rating. Any fuel between 91 and 98 octane RON. including unleaded petrol.
TRANSMISSION
Five speed manual gearbox.
SUSPENSION
Front and rear anti-roll bars.
WHEELS AND TYRES
Light alloy wheels. High speed. low-profile tyres.
Compact spare wheel.
Wheel size 5áJ x l5".
Tyre size 195/60 VR 15.
WEIGHTS*
Kerb weignt 2830-2910 lb (1285-1320 kg).
Max total weight 3840-3880 lb (1740-1760kg).
PERFORMANCE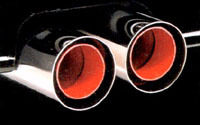 Horsepower, DIN
catalyst (3 way): 175 bhp (129 kW) at 5700 rpm
non-catalyst: l85bhp (l36kW) at 5500 rpm
Max. torque, DIN
catalyst (3 way): l90 lb ft (258 Nm) at 3000 rpm
non-catalyst: 201 lb ft (273 Nm) at 2800 rpm
Top speed man
catalyst (3 way): 127mph
non-catalyst: 130mph
Acceleration man
catalyst (3 way): 0-60 mph 8.2s
non-catalyst: 0-60 mph 8.0s
4th gear acceleration man N/A
5th gear acceleration man N/A
STANDARD EQUIPMENT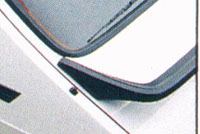 ABS, anti-lock braking system.
Whale-tail spoiler.
Twin chrome exhaust pipes.
Front driving lamps.
900 Carlsson stripes.
Leather gear lever knob and gaiter.
Power-assisted steering.
Sports Suspension.
Cruise control.
Front and rear airflow spoilers.
Three-spoke light alloy wheels.
Headlamp wash/wipers.
Electrically operated door mirrors.
Electrically operated windows.
Electrically operated steel sunroof.
Tinted windows all round.
Central locking.
Leather sports steering wheel.
Electrically heated front seats.
Driver's seat cushion adjustable for height and slope
Head restraints and folding centre arrnrest in the rear seat
Front speakers.
Electrically operated aerial.
Tachometer.
Ventilation air filter.
Delayed action interior lighting.
High level rear brake light
Headlamp adjustment.
Rear decor panel.
FACTORY-FITTED OPTIONAL EQUIPMENT
Leather-faced upholstery.
Three-way catalytic converter.
CHANGES FOR 1991 over 1990
Standard
Leather-faced upholstery with suede inserts.
Three-way catalytic converter.
Options
Electrically adjustable front seats
CHANGES FOR 1992 over 1990 and 1991 FUEL CONSUMPTION
miles per gallon
catalyst (3 way):
Urban cycle 23.2
at 56 mph 37.2
at 75 mph 26.2
non-catalyst:
Urban cycle 24.2
at 56 mph 36.7
at 75 mph 25.5
DIMENSIONS
Length: 4680 mm
Width: 1695 mm
Height: 1405 mm
---
Return to Specials page.

Return to


Use your Brower's Back button to return from whence you came.

Page layout by Larry West

Created October 30, 1996
Last Update October 30, 1996

Special Thanks to Andrew Wright for the scanned photos and much valuable information about the Saab Specials in the UK.

Turbo! logo by Rob Lodes