! - Welcome to the Source! -> <! - This file is the Classic 900 SE file -> <! -Last updated 10/30/96 LJW>
<! IMG SRC="../turbo.gif">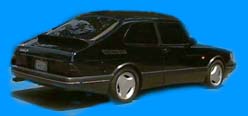 This page is devoted to the Special Editions of the Saab 900 from 1979 through 1993. We'll include photos, text, and links to other sites about them. We'll try to include things like how many were made, where they were sold, etc. Enjoy!
First up, Brandon Greimann happens to own two rare 900 turbos.
1982's 25th Anniversary Edition

This was one of the only (maybe the only) 4-door Special.

and, 1993's Commemorative Edition

Only 300 of these were imported to the USA
Next, we have pages devoted to some British Specials, courtesy of Andrew Wright.
First up is the beautiful Saab 900 Ruby Edition

Red Mica Metallic paint and a custom interior make this one truly special

Next is the incomparable Saab 900 Carlsson

Named for Saab's famous 'Carlsson på taket' or Carlsson on the roof, we're wondering if Saab reinforced the roof on his namesake edition ;-)

The United Kingdom also got a set of Special Edition Aero Convertibles

The S model with the LPT was never sold in the USA
This next one was not really a special in it's own right. Rather, it was the American prototype for what would become the SPG or Special Performance Group.

The US wasn't the only source for special editions. Keep an eye here for information on other Specials. If you own one, or have informationa about one, e-mail Larry or Rob with the info, and we'll make sure it gets here.







Page layout by Larry West and Rob Lodes

Turbo! logo by Rob Lodes

Created: October 4, 1996
Last updated: November 1, 1996