Saab 900 Ruby Edition
Sold only (?) in the UK, this special edition is truly something to behold. If you don't like red cars, you may not share my opinion, but hang on and take a look. The Ruby was part of the Saab Classic Collection, a set of special 900s produced near the end of the Classic 900's long, illustrious run in 1993.
Starting with Ruby mica metallic paint, which gives the car a deep coloring, Saab worked to combine different styling ideas to make a truly outstanding looking car. Computer image reproduction can surely only approach the beauty of this model.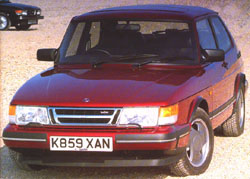 The paint is carried on to the bumper covers and bumper skirts, giving it a look similar to the 9000 Aero. Equipped with the 185hp version of Saab's original 16 valve motor, and only available with a 5-speed gearbox, it was definitely meant to be a mover and a shaker. The asymmetric alloy wheels give the impression that the car really wants to move, too!
But the interior is decidedly different. Dark Grey leather, befitting the upscale nature of the car, but with an added (and welcome to this writer) twist: 100% Zegna wool inserts in the seats, and on the door panels. At first, I thought it was sheepskin or something, but when I saw Andrew's pictures, I found that instead it was a cloth like you would make a suit or maybe a coat from. Other leather accents included the steering wheel, shift knob, the shift gaiter (boot), and the trim at the top of the door panels.
Click on any of the smaller pictures to see the enlarged view. And here's a second interior view.

Return to Specials page.

Return to


Use your Brower's Back button to return from whence you came.

Page layout by Larry West

Created October 18, 1996
Last Update October 18, 1996

Special Thanks to Andrew Wright for the scanned photos and much valuable information about the Saab Specials in the UK.

Turbo! logo by Rob Lodes